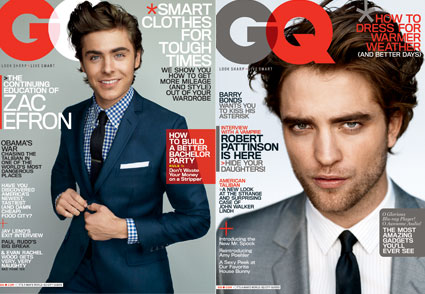 Catch the whole story at E!:
On the right, we have the sparkly vampire who looks disinterested in this whole thing. He didn't even shave before getting photographed for the cover. But that's part of his charming "I don't give an ef" attitude.
Then there's Zefron, the singing and dancing wonder who appears a little too enthusiastic, like "Hey guys! Does this blue make my eyes pop? Who wants to get a milk shake after this?!"
Really, it all comes down to whether you prefer guys with magical hair who come off like they don't care, or guys with magical hair who can work a parking meter...
Which would you take, ladies? Is there even a contest??