Twilight Lexicon scored an exclusive interview
with Kimbra Hickey, the famous hands of Twilight.
Kimbra's MySpace page
showcases her work as well.
Sure, her hands are gorgeous, but I much preferred the crooked grin and cutesy apple/hand stunt at the salad bar..."Edible art? Bella?" Swoon...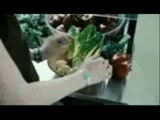 BTW, it only took about 15 viewings of the movie before I finally asked my Twi-hard partner in crime what Edward Cullen was saying (Edible Art)... too focused on the boyish grin...