Photo by: Davila / Startraks, Fame, Mayer / WireImage, Kopaloff / FilmMagic, Wargo / WireImage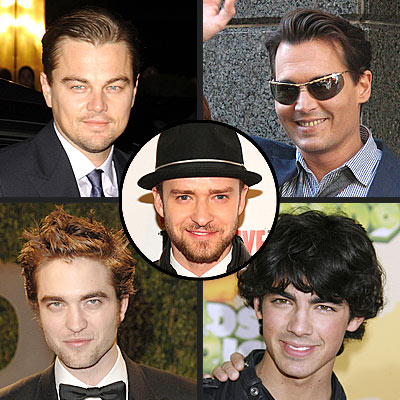 The race is on in Hollywood to play Ol' Blue Eyes.
People
reports that Martin Scorsese is on the hunt to find a young buck to portray the role of legendary singer and colorful icon Frank Sinatra.
Contenders include
Leonardo DiCaprio
, who has made three films with Scorsese, including
Shutter Island
, which opens this fall. Another possible contender:
Johnny Depp
. Respected film industry blogger Nikki Finke reports he's the choice of the sponsoring studio, Universal. Neither actor is known for his warbling abilities, but that doesn't matter because the film, which has the cooperation of the Sinatra estate, will use the crooner's original recordings.
Other possible contenders?
Justin Timberlake
, who actually can sing and has the right hungry look. Tween heartthrob Joe Jonas has the pipes and the right look. Or maybe even
Twilight
's
Robert Pattinson
, if he loses the fangs and nails a New Jersey accent.
Much as I love me some Hunky Spunk, my personal choice for this role would be Leonardo DiCaprio....
Thanks to
Robsessed
for the tip!