You saw Ashley's puppy earlier
during her stint at Kitson's
; now
learn more about Marlow
, Ashley's toy fox terrier: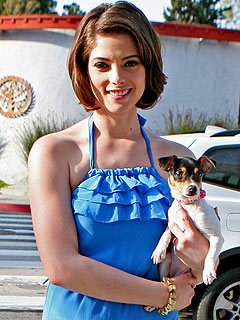 "She was meant to be mine," gushed the 22-year-old actress, who plays the pixie-like vampire Alice Cullen in the popular series, of her new puppy, Marlow. "I wasn't looking for a dog, and I happened to see her picture online, and I was like, 'I have to have that dog.' "
"I'm already so that girl that brings her puppy to an event," Greene admitted to PEOPLE, adding, "I just got her today, and I was like, 'I can't leave her home alone all day!' "
As for how Marlow got her name, Greene said, laughing,

"I really liked the name Harlow, but that's
Nicole Richie
's kid's name, so I thought that might not be entirely appropriate, so I just changed the first letter."