People.com catches a pic of Robert "Caught in the Act:"
Robert Pattinson was mingling in the VIP room at a party following the Juno Awards (the Canadian Grammys) at Vancouver's Velvet Room inside the Opus Hotel. The
Twilight
star arrived after the Universal Music bash was in full swing, then grabbed a martini and some food – much to the delight of many of the waitresses working the soiree. According to a source, several servers giddily greeted the actor, who was "gracious and really enjoying himself."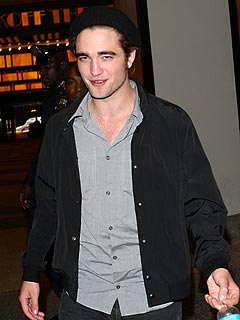 But the real story is about Canadian songstress Adeline who had a more than meaningful conversation with Mr. Hunky Spunk at that party and helped him relax from the barrage of snapshots:


"So I leaned over and said, "I don't need a picture of you. You're just a normal person trying to have a good time. I'm just happy to have this moment with you. Sometimes people want a piece of you, more specifically, a piece of Edward. I'm happy to be meeting you. At the end of the day, you're just like me."
At that point, he pulled me into an warm embrace and said in my ear, "You are the first person to say that to me all day, thank you. Honestly, thank you".

I said, "You're welcome. We're the same".
"